Shockwave therapy in North Fort Worth, West Fort Worth, or Weatherford  uses acoustic waves to carry powerful energy to painful spots of musculoskeletal tissues with subacute, subchronic and chronic conditions. The energy promotes regeneration and reparative processes to the bones, tendons, and other soft tissues. The acoustic waves will interact with the tissue causing overall effects of accelerated tissue repair, cell growth, analgesia and mobility restoration.
---
BENEFITS OF SHOCKWAVE THERAPY
Creates new blood vessels which improves blood supply, oxygenation of area and faster healing of tendons and bones.
Reverses chronic inflammation that damage healthy tissue, resulting in chronic pain. Mast cells are one of the key components of the inflammatory process which first enhances the inflammatory process and then helps restore normal healing and regenerative processes.
Stimulates collagen production by making newly formed tendon fibers which are more dense, flexible, and firm.
Break up existing calcifications which results in micro-tears or other trauma to a tendon by removing the granular particles through the lymphatic system.
Lowers Substance P which is a neurotransmitter that mediates pain information through C-fibers, thus reducing pain.
Release of trigger points which are the principal cause of pain in the back, neck, shoulder, and limbs.
---
SOME INDICATIONS
Knee Pain
Tennis Elbow
Hip Pain
Low Back & Neck Pain
Rotator Cuff Issues
Heel Spur
Chronic Tendinopathy
Calcifications
---
WHAT TO EXPECT DURING THERAPY?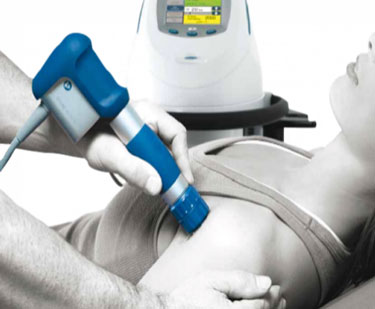 The treated area is located by using palpation to deliver the therapy precisely. Sonogram gel is applied to transfer the waves efficiently and smoothly. The Shockwave applicator is pushed slightly against the area to be treated and the start button is pressed. Treatment at our office in North Fort Worth is customized to patient's comfort level and lasts approximately 5 minutes.
---
EXPECTED RESULTS
Up to 80% of patients report that Shockwave therapy has helped them eliminate their problem.
There may be a slight feeling of discomfort during the treatment, depending on the level of pain the patient is already experiencing in the area.
The number of treatments varies depending on the indication and tissue response. The effect of the treatment is cumulative, so you will typically need more than one (3–12) treatment. Very often though, you will experience relief right after the first treatment.
Most indications require 3–12 treatments which are done 3–10 days apart, depending on the patient's tolerance and their tissue response.
Most patients will experience immediate pain relief following the treatment. Some patients may experience some soreness in the treated area, this will be temporary and typically relieved with ice.